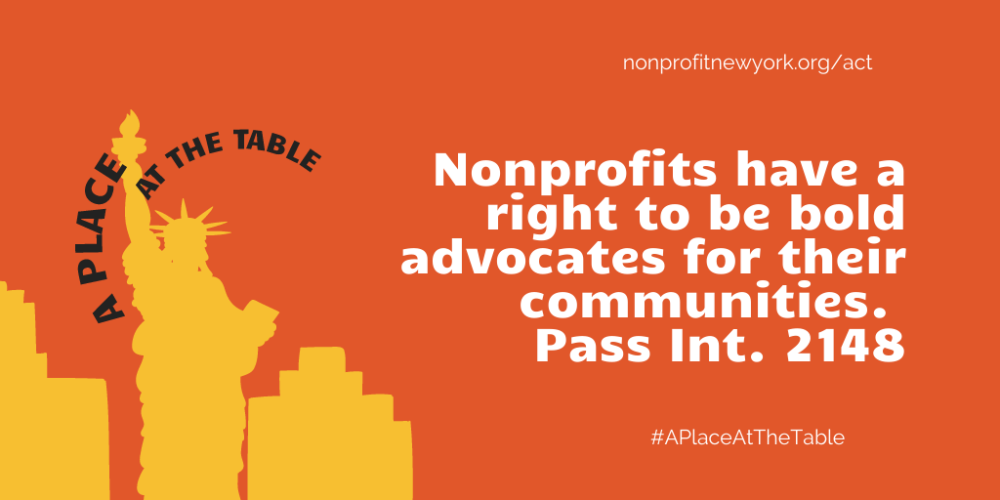 Int.2148-2020, sponsored by Councilmember Cabrera, would raise the City's "lobbying threshold" to $10,000. Nonprofit New York and coalition partners have been advocating to raise the threshold as a part of the A Place at the Table campaign. The campaign seeks to reduce barriers for nonprofits to engage in legislative advocacy. We thank Councilmember Cabrera for introducing this critical legislation!
Nonprofits often represent the needs of our communities, but many nonprofits do not do legislative advocacy. Fewer than 3% of nonprofits engage in legislative advocacy, which can create the change we want to see. In a time when New Yorkers and nonprofits face economic uncertainty, record unemployment, racial injustice, a looming eviction crisis, affordability, and other challenges, policymakers need to hear more from you, not less. Nonprofit advocacy brings more voices into the policymaking process. Sign on to support our campaign today.
New York City's "lobbying threshold" is $5,000. This means if an organization spends $5,000 in a year doing legislative advocacy, they must register as a lobbyist. We want to create more space for nonprofits to have a place at the public policy table, by raising the lobbying threshold from $5,000 to $10,000. Raising the threshold will encourage more nonprofit advocacy and alleviate the administrative burden placed on grassroots organizations' advocacy.
Legislative advocacy rules are complicated and  burdensome, and nonprofits are the most tightly regulated of all sectors that lobby. An organization that plans to spend $5,000 in a year doing legislative advocacy must: register as a lobbyist and submit bi-monthly reports on their activities to the city (and state), file a minimum of 6 reports each year,  and risk paying late filing fees ranging from $75 to $2,000 per filing. This causes many nonprofits to decide not to lobby at all - taking their voices, and the voices of their communities, out of the conversation. 
Reporting lobbying activity can be expensive - big lobbyists spend upwards of $500 a month on reporting alone. Small nonprofits  simply can't afford that. 
We need your support! Sign on as a supporter of Int. 2148 to let New York City know you support nonprofit advocacy!
Contact: Nonprofit New York Policy Director Chai Jindasurat ([email protected])
Signatories as of December 28, 2020:
American Ballet Theatre
Amnesty International
Asian American Arts Alliance
Association for Neighborhood & Housing Development, Inc.
Astor Services for Children & Families
Boys Club of New York (BCNY)
Bronx Impact
Brooklyn Botanic Garden
Callen-Lorde Community Health Center
Cape Cod Chamber Music Festival
Casita Maria
Center for Urban Pedagogy (CUP)
Children's Aid
Chinese-American Planning Council (CPC)
Citymeals on Wheels
Dance/NYC
Dancewave
Dancing Crane
Dejus Center, Inc.
ECPAT-USA
Educacion Para Mi Pueblo, Inc.
Ensemble Studio Theatre
Equity Advocates
Flamenco Latino
Fourth Arts Block
Gay Men's Health Crisis (GMHC)
Girl Vow
Girls for Gender Equity
Good Shepherd Services
Goodwill Industries of Greater New York and Northern New Jersey
Green:Inspire:Art
Hi-ARTS
Holy Trinity Episcopal Church Valley Stream New York
Housing Works
Human Services Council
International Senior Lawyers Project
Jose Limon Dance Foundation
Kehila Kedosha Janina
King Manor Museum
LaGuardia Performing Arts Center
LAPA Fundraising
Lawyers Alliance for New York
League of Women Voters City of New York
Literacy Assistance Center
M.Y.S.O.N., Inc.
New Destiny Housing
New Destiny Housing Corp
New York City Employment and Training Coalition
New York Council Navy League
New York Immigration Coalition
New York Society of Association Executives (NYSAE)
New Yorkers for Culture & Arts
Nonprofit Finance Fund
Nonprofit New York
Nonprofits TALK
Opera Hispanico
PPLD
Princess Janae Place, Inc.
Restaurant Opportunities Centers United
RiseBoro Community Partnership
SC Group
SEPA Mujer
Signatories
South Asian Fund For Education, Scholarship and Training (SAFEST)
Southwest Brooklyn Industrial Development Corporation (SBIDC)
Stefanie Nelson Dance Group
Teens for Food Justice
The Art Therapy Project
The Climate Museum
The Laundromat Project
The New York City LGBT Center
Theater Et Al, Inc.
Theatre of the Oppressed NYC
United Neighborhood Houses
United Way of New York City
Urban Green Council
UrbanGlass
Violence Intervention Program