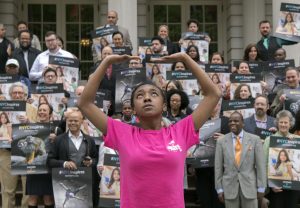 New Yorkers for Culture & Arts (NY4CA) is a city-wide coalition of cultural groups that believes that every New Yorker in every neighborhood should be able to engage in the life transforming, community strengthening power of culture and arts. Formed in 2018 by the merger of two existing cultural advocacy groups, we began the work of building a strong network of arts and culture groups to fight for increased funding and improved public policy supporting culture across the five boroughs. This means advocating with city government, getting word out in the media, gathering data and research on the impact of culture, and more. And we've already had some impressive successes: the City Council has passed increases to the culture budget for the past two years, resulting in the largest spending on culture in the city's history.
But the budget numbers don't tell the whole story. Marginalized and lower-income communities in NYC have far fewer cultural resources. Increased support for those neighborhoods is not only the right and fair thing to do, it can transform the city in myriad positive ways. Research shows that engaging in arts and culture improves education outcomes, increases quality and length of life for seniors, helps keep youth out of the criminal justice system, improves mental health, and strengthens community ("The Social Wellbeing of New York City's Neighborhoods: The Contribution of Culture and the Arts," Mark J. Stern and Susan C. Seifert , University of Pennsylvania, 2017). Ultimately, NY4CA's goal is to create a true equity- and social justice-focused alliance of organizations and individuals working for a culturally vibrant and just city.
Looking forward, the next 18 months will be a critical time for this work. In 2021, NYC will elect a new Mayor, five new Borough Presidents, and three quarters of a new City Council---one of the largest turnovers of city government ever. NY4CA needs to ramp up efforts to ensure we retain and build on our gains in funding, and continue to work for changes in policy that will make the city more hospitable for arts and culture groups and those who work in them. Over the past few years, elected officials worked with the arts and culture communities to develop the city's first cultural plan---CreateNYC---over the past few years. Now we need to be sure that we work toward achieving its goals---and not let it be discarded by a new administration. So we will be doing everything we can to educate candidates and the public on the critical roles that culture plays in this city----and the impact it has on every community.
Too often people talk about NY's culture—going to a museum or botanic garden or poetry reading-- like the decorations we put on a tree. But the truth is that culture is at the very roots of what makes New York City great. And we know that not all of the roots are getting the water they need to survive and thrive. So there is work to do to sustain, increase, and expand culture in every community in this city. Coming together in a powerful coalition we will fight for a more vibrant and equitable culture and arts landscape and the benefits it engenders: more successful education, better aging, improved mental health, stronger communities, and a city that respects the dignity and humanity of every one of its citizens.