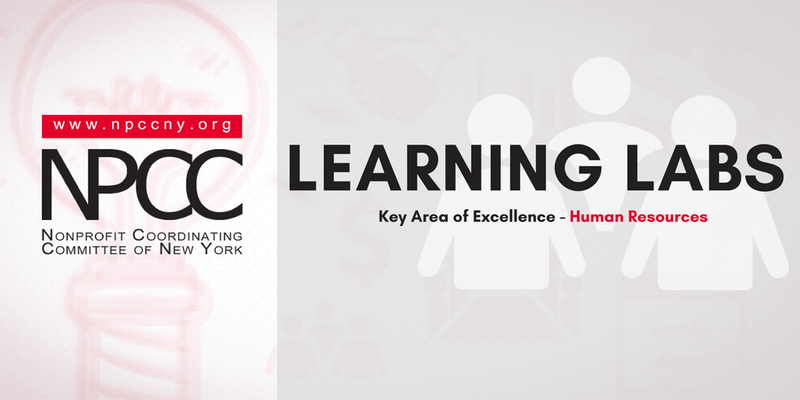 How do you make sure that your human resources —your people—are valued and developed at your organization? Come to our Human Resources Learning Lab starting in February 2019 to learn and develop tools that ensure that your organization's employees are nurtured and developed to keep your mission moving forward.
Participants will develop a strong set of tools to implement human resources practices that enhance their team's ability to deliver on their mission including identifying and developing leadership pipelines and succession plans, assessing staff needs, and crafting responses to those needs in a holistic manner including work/life balance practices.
Participants will learn through an in-depth, six module cohort-based series, led by experts, that will provide a deep dive into human resource management for nonprofits. Participants will also join an online community of practice of peers to facilitate peer-to-peer learning, sharing, and networking.
This Learning Lab is intended for individuals in your organization with basic to intermediate knowledge of human resources. This includes various stakeholders involved with human resources management, including human resources staff, executive directors, operations staff administrators, and program staff. Organizations of all sizes are encouraged to apply. Please note that all registrants are required to complete an assessment prior to being accepted, but register today as our Learning Labs do sell out!
Session 1 - Employment Life Cycle (part 1)
Thursday, February 7, 2-5pm
Session 2 - Employment Life Cycle (part 2)
Wednesday, February 13, 2-5 pm
Session 3 - Creating a Healthy Work Environment
Thursday, February 21, 2-5pm
Session 4 - Leadership Development and Succession Planning
Thursday, February 28, 2-5pm
Session 5 - Integrating Talent Management with your Organizational Strategy
Session 6 - Aligning your Values and Culture to your Mission
Thursday, March 14, 2-5pm
Register now and reserve your spot for this learning lab. The deadline to register for the HR Learning Lab is Monday, Jan. 21, 2019. Register today, and reserve your spot for this Learning Lab!
Questions about this Learning Lab? Contact Education & Training Manager Aaron Covarrubias at 646-893-2441 or [email protected].