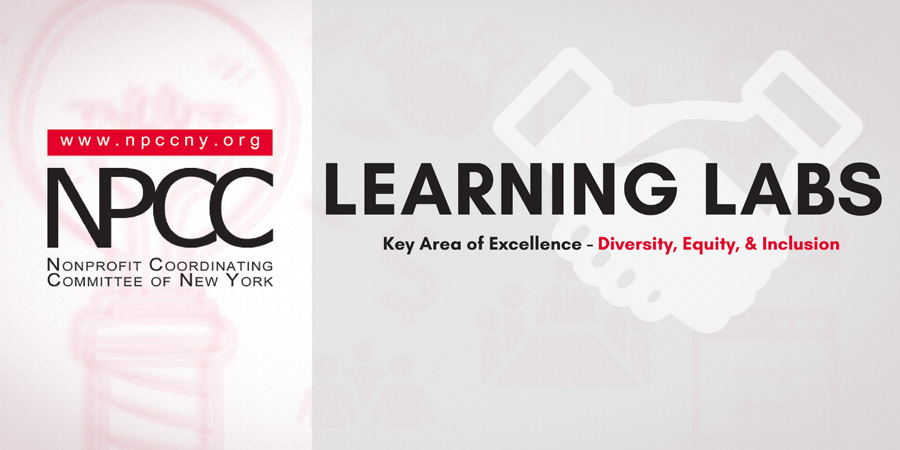 Many nonprofits exist to address the ongoing consequences of systematic oppression and inequitable social and institutional practices. A focus on Diversity, Equity, & Inclusion (DEI) fosters a management culture that embraces different perspectives, resulting in stronger programs, comprehensive strategies, and the ability to better mitigate risks. But, where do nonprofits begin?
Apply for our first-ever DEI Learning Lab this fall. We're offering this series in response to the critical need for nonprofit leaders to internalize DEI as an organizational priority. In order to help nonprofit leaders move beyond a surface-level understanding of DEI, this Learning Lab tackles the challenging conversations needed to guide DEI efforts, and hold individuals and organizations accountable.
This Learning Lab is intended for nonprofit staff with basic to intermediate expertise in DEI, including executives, board members, program staff, human resources, and operations staff. Organizations of all sizes are encouraged to apply for the DEI Learning Lab.
Session 1 – An Overview of DEI: Making Sense of DEI as a Management Practice

Thursday, November 1, 2 pm - 5 pm

Session 2 – Developing a Shared Language and Definitions

Wednesday, November 7, 2 pm - 5 pm

Session 3 – DEI as an Ongoing Process: How to Say We're Not "There" Yet

Thursday, November 15, 2 pm - 5 pm

Session 4 – A Deep Dive into Equity and Inclusion

Thursday, November 29, 2pm - 5pm

Session 5 – Building Diverse Leadership Pipelines

Monday, December 3, 2pm - 5pm

Session 6 – Becoming an Effective Change Maker Around DEI

Thursday, December 13, 2pm - 5pm
The deadline to apply for the DEI Learning Lab has been extended to Wednesday, Oct. 24, 2018.